Whether you have created your own website or manage your own blog, it is of paramount importance that you have an easy-to-use email marketing tool so that you can effectively & efficiently grow your subscriber list.
The right email marketing tool can automate the whole process for you. For example, it will allow you to create an opt-in form for your site, design your email newsletter, decide when and how often an email is to be sent out to your subscriber list etc. etc..
Having a growing subscriber list, that has signed up to receive your emails, will keep you in touch with your audience on a regular basis and most importantly, encourage them to come back to your site. This is not to mention the periodic promotions that you can do once someone has signed up to receive your emailed newsletter.
Perhaps you already use Aweber and you are wondering if it is the right email management software for your internet business.
Or perhaps you are just starting out and thus looking to sign up with a platform like Aweber (affiliate link) and getting your email marketing campaign up and running.
Well let's get started by looking at what Aweber has to offer compared to a couple of its alternatives.
Aweber Features
Aweber is definitely packed full of nifty features as well as helpful videos and tutorials. This is probably why it is considered by so many to be an excellent choice for managing an email subscription list.
Notable Features of Aweber
Aweber does have a trial period which means you can try it out for the 1st month.
Aweber shares many features with GetResponse, the tool discussed next, such as the following:

A wide range of opt in form templates that you can customise as you prefer either on the Aweber site or by tweaking the code yourself.
The option to write text or HTML copy in your emails.
Choice of single or double opt-ins.
Customised thank you pages (this is essential).
Scheduling of email series: each email can be sent out so many days apart, according to your preferences.
Ability to broadcast one-off emails to announce something new on your website for example.
Excellent statistics that record how successful your mail out has been. In other words, you can check how many people opened your email and how many then engaged with its content, such as clicking on links.
An import feature. If you already have a list, you can add it to your account.
You are certainly in good hands with Aweber and their support team.
GetResponse Features
One alternative to AWeber is GetResponse. You can also try before you buy as GetResponse is free to try for 30 days.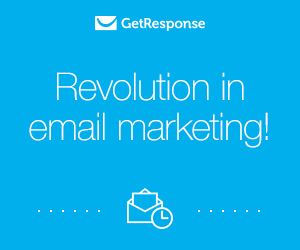 Notable Features of GetResponse
It is very easy to import a list into your GetResponse account. Like Aweber it is known for great customer service.
The features mentioned under Aweber above are also available with GetResponse. Additional features (at the time of writing) include the following:
You can send out selective emails according to user interaction. If someone who has received your email, clicks through to a particular page on your website for example, you can have  GetResponse then send out a relevant followup email to that person.
Both Aweber and GetResponse offer a very professional service with their customised email templates, autoresponders and efficient delivery of emails in a sequence decided by you.
See GetResponse Details & Pricing Here.
MailChimp as an Alternative
I've seen some beginner bloggers asking the question:
What is MailChimp?
Well, MailChimp is also an email marketing management system. Whilst it is less sophisticated than the big players it does have its loyal fans who welcome its basic simplicity.
MailChimp does offer a free alternative but you would have to ask yourself if this is yet again a case of simply getting what you pay for??
The free version is definitely popular with a wide number of bloggers. BUT, my biggest concern would be the number who have reported that their accounts were closed down because they were involved in affiliate marketing . OUCH!!
Notable Features of MailChimp
There is also a paid version but if you plan to do affiliate marketing then other tools might offer more of what you are looking for.
See Pricing of MailChimp's Paid Email Management
Conclusion
So when it comes down to finding the best email autoresponder, my advice would be to steer clear of free email marketing tools. With free, you'll end up with ads that you have no say over,  considerably fewer features than the big players and a possible lack of accountability.
The tool I have been using is Aweber. Given the downturn in the exchange rate, it has become more expensive for me, having to pay with Aussie dollars. But so far, I haven't found an alternative that I like as much as Aweber and I continue to be impressed with the ongoing enhancements that Aweber releases.  I particularly like the Blog Broadcast feature.
Which is your preferred email management tool?
Featured Image courtesy of Stuart Miles at FreeDigitalPhotos.net